The Yakima Skyrise Tent is Roomy and Family Friendly!
Fellow Outdoor People, listen up! If you haven't checked out the new SKYRISE tent from Yakima, you are missing out! Paddlers venturing to far away rivers and lakes, hikers needing a base camp, music festival goers, anyone who likes to camp and sleep in the great outdoors; the Skyrise Tent has your name written all over it!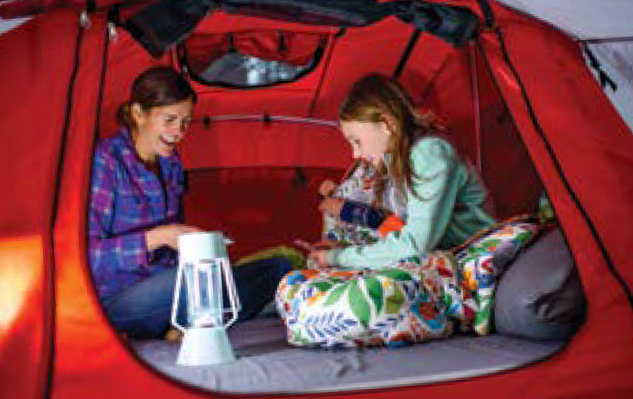 Having been an employee of Yakima Products, Inc. (East Coast Marketing and Sales...aka their East Coast "Roadwarrior") I always get excited to hear of Yakima's success and new products coming to market. Last August at a large Outdoor Industry trade show I was first introduced to the Yakima Skyrise Tent and immediately knew it would be a hit!
A tent that would install onto existing crossbars!?!? Why wouldn't the thousands of tent users not be interested? I remember recalling, "There must be a catch". Perhaps it would be the price? What about limitations? How hard will it be to set up?
Well, to make a long story short, there's not much of a catch at all! This thing is reasonably priced (for what you get!), in fact more affordable than many other rooftop based tents like it on the market, and easily less than trailer-based tents. It's easy to set up, took me about 10 min the first time, and now I feel like I can set it up in 5! And it weighs MUCH less than other similar products on the market! To find out if it will fit on your vehicle, give Mountainman a call (315-369-6672 x1, 9a-6p Eastern) or check out Yakima's FAQ page for the Skyrise.
***Note the Skyrise Tents pair very well with the Yakima SlimShady Awning Sun Shade!
Did I mention this temporary rooftop shelter comes complete with it's own sleeping pad?!?! Yes you heard me right, it comes with a 2.5" foam mattress (and removable cover), a ladder, and everything you'll need to install it. At $999 for the Small and $1350 for the Medium, I feel it's worth every penny! That said, it's the easiest tent to set up in my honest opinion and keeps the user up off the ground away from water and critters. This also allows for great airflow and some killer views!

As soon as the Skyrise Tents landed at Mountainman Outdoor Supply Company, I just had to purchase the Skyrise Medium. Yakima claims is sleeps 3, but it's pretty spacious and I knew I could take my family of 4 out for an evening under the stars. We had used masking tape on our kitchen floor to measure out the dimensions and ensure we'd fit!
That evening a fellow staff member and I took it out of the box and had it on the roof of my Toyota Tacoma's Camper Shell (on Yakima Bars and Control Towers) in about an hour, beverage in hand during the process. Later that evening I loaded up the family and took the Skyrise Medium for its inaugural overnight. The kids (ages 3 and 5) were keen to get it setup and use the tent as their "tree fort" (again it only took about 10 min). That evening my wife (5'6), the two kids, and yours truly (5'11") all slept in the Skyrise, with a bit of room to spare! Our 3 year old slept sideways at the far end of the tent, and the rest of us slept lengthwise...again with plenty of room.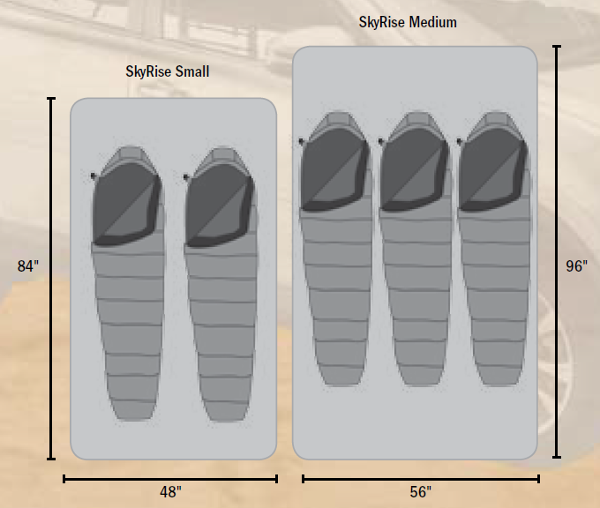 I got one of the best nights of sleep I've had outdoors in a long, long time on that 2.5" pad. I might add, many folks seem to think climbing down a few rungs of the ladder at night for that middle of the night "nature's call" would be difficult...I personally didn't feel like it was any different than stepping out of the tent. Just bring your headlamp with you to see where you're stepping. You'd do this anyway in a ground tent right?!
After a quick breakfast and coffee in the AM and a short hike around the woods, we returned to camp to pack up. The tent took me about 10-15 min (again the first time) to put it all back together. Make sure the cover is fully opened and unstrapped, tuck in all the tent fabric, and use the straps (not the cover straps, the straps hooked to the floor of the tent) to squeeze it as tight as possible. This will make fastening the cover much easier!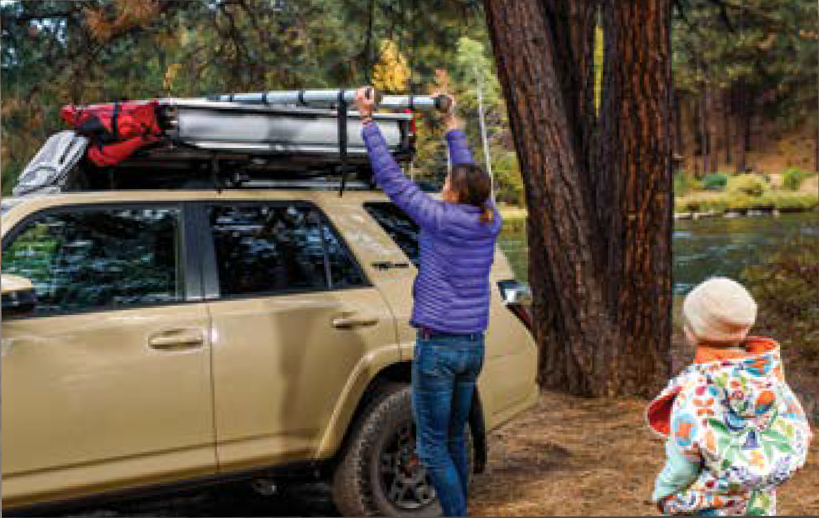 Some things to note:
At this time the Skyrise will only go onto towers/bar that are mounted to siderails (think Railgrab or Timberline towers) or to towers that install on tracks (think Control Tower or Skyline). They also claim it may fit some factory crossbar set ups. To save yourself some time check with Mountainman or Yakima to see if it will fit your vehicle! (315-369-6672 x1, 9a-6p Eastern)


Pair the Skyrise tent with the SlimShady Sun/Rain shade for the ultimate camping set up!

The higher your vehicle roof, the more challenging set up and tear down can be. That said, standing on a tire, the tailgate, or inside the car makes it easy.

Makes it easy...kinda reminds me of Yakima's saying, "Making it easy to take it easy." Well they nailed it with the Skyrise Tent!