THE FUTURE of Kayak Fishing is NOW: BlueSky Boatworks has landed at Mountainman Outdoor Supply Company!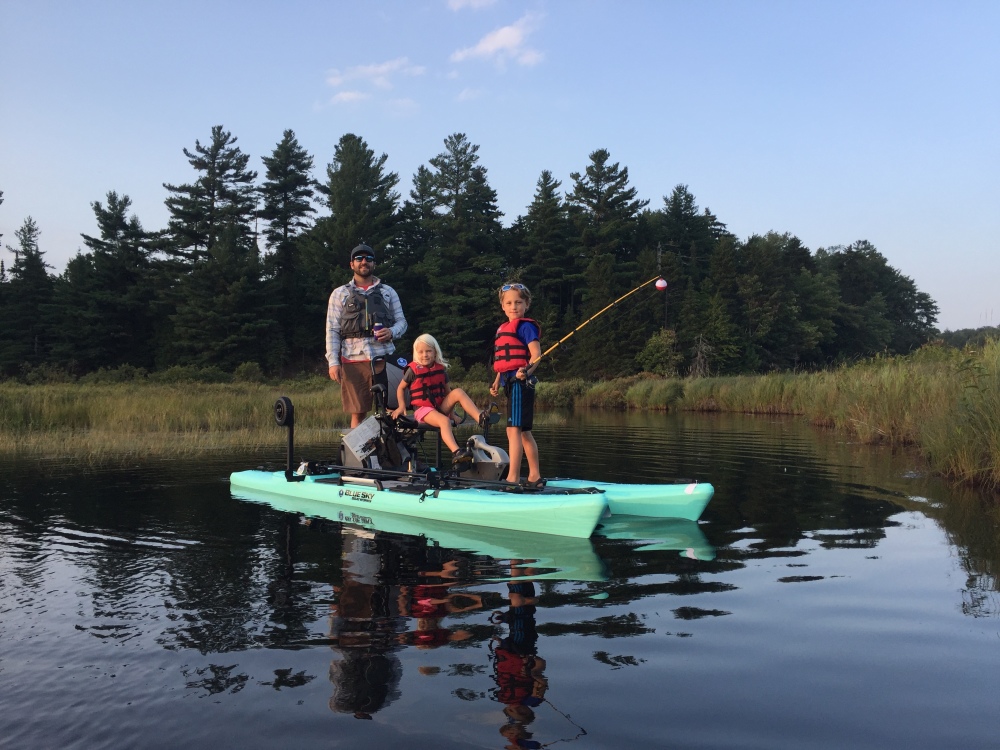 As they say, "Good things come to those that wait!" And that statement couldn't be more true regarding the new 360 Angler catamaran-style fishing rig by Blue Sky Boatworks (Jackson Kayak).
I'm not sure if it was the comfortable appeal of the captains chair that caught my attention at first or the fact it is a pedaling catamaran "kayak", either way I certainly had that "Christmas Morning" excitement and couldn't wait to try this boat out! Without a walk through from a representative or having seen much video regarding the product online, I found the rig very straight forward, easy to see and understand how to use all of it's features, and in turn, how it could be very appealing to any paddler...especially the paddler who likes to get their FISH on.
Weather in the Adirondack Mountains can change by the minute and I found a nice break in what had been a cloudy Sunday afternoon to take the new 360 Angler Demo and my kids for a spin on the Moose River located within 100 feet of our shop doors here at Mountainman. Yes, we test paddle daily,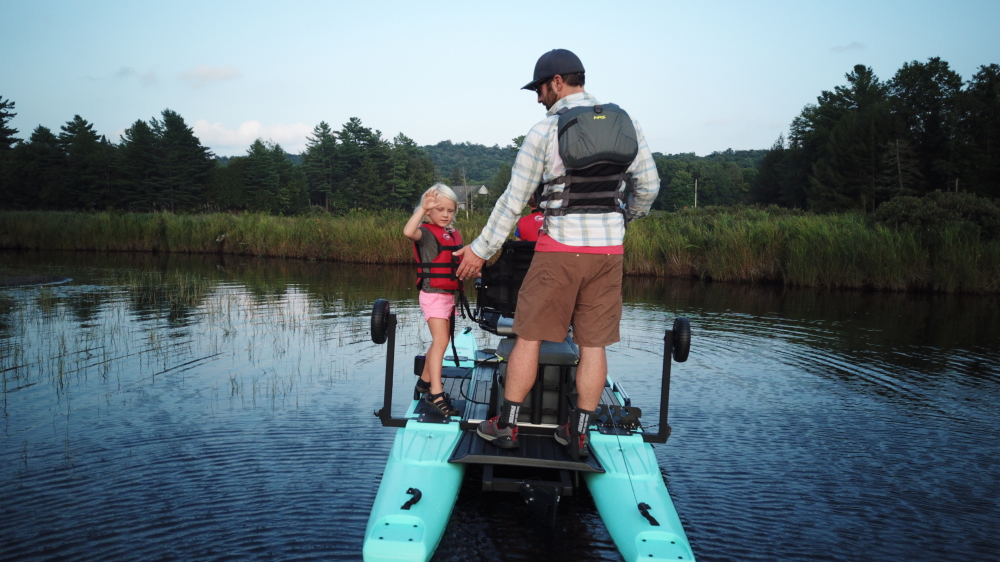 (High Fives for FUN!)
so feel free to swing by and try this boat out!
This 140 lb craft (honestly feels less but maybe that's because I lift boats on the reg) is best transported with a kayak trailer and then walked to the water using it's onboard cart wheels, really it's easy! In our case we used a Malone Microsport Trailer with dual sets of Bunks. Getting it to the water was no problem. Had there been a launch ramp it would have been easy to back in and launch, again it comes standard with cart style wheels that make rolling it to the water easy when you're flying solo. Side note: On the water I positioned the cart wheels in an upright position in order to give my kids something to steady themselves against, though in hindsight they never needed them with such a stable craft.
We launched onto the Moose River and I used a Yakattack 8' ParknPole to navigate past the "Moose Grass" so it wouldn't get caught up in the prop (a SUP Paddle would have been ideal). Once in "clear" waters I took over the Captain's Chair and began pedaling. With so much surface area the seat was as comfortable as most lazyboy chairs, certainly when used in combination with the NRS Chinook fishing PFD with its high cut back (they move all the flotation foam to the top of your back so it does not interfere with the seat back itself). Of course the NRS Chinook boasts all sorts of great features any fisherman would need including 7 front pockets, a coil tool retractor for snips, and more.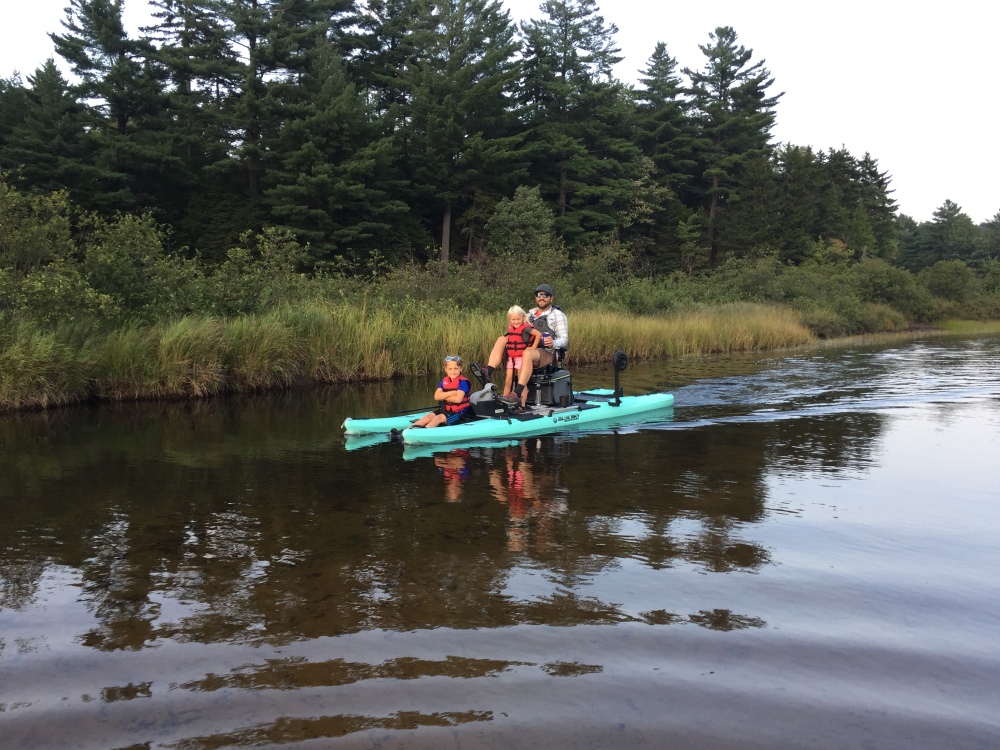 It took a quick second to get used to the steering; forward means left and back means right, on the dual sided rudder control. This dual sided rudder control allows the "pedaler" to enjoy their favorite cold beverage of choice or keep that rod active in one hand while using their other hand to steer. Pedaling the 360 Angler was comfortable as my feet were not at hip level but lower; more ergonomic in my opinion. It was very quick on the water too and if pedaling isn't your thing you can get a lithium battery powered drive as well letting it do all the work.
The 360 Angler pedaled well even in waters that I felt were 1 foot deep, maybe it was 1.5 feet, which did kick the prop up a little, maybe the rudder too, but we still had forward momentum.
We ventured out to one of our favorite spots, I dropped the ParknPole through one of the manufactured holes in the deck sinking it in the water and earth below and took to casting. Again, there were three of us (approx 300 lbs) on the Angler 360 and it was still comfortably stable. It was not hard to move around either, I've heard 30 sq ft of deck space, which also made it easy to avoid the kids casting lines…to say the least we had a blast!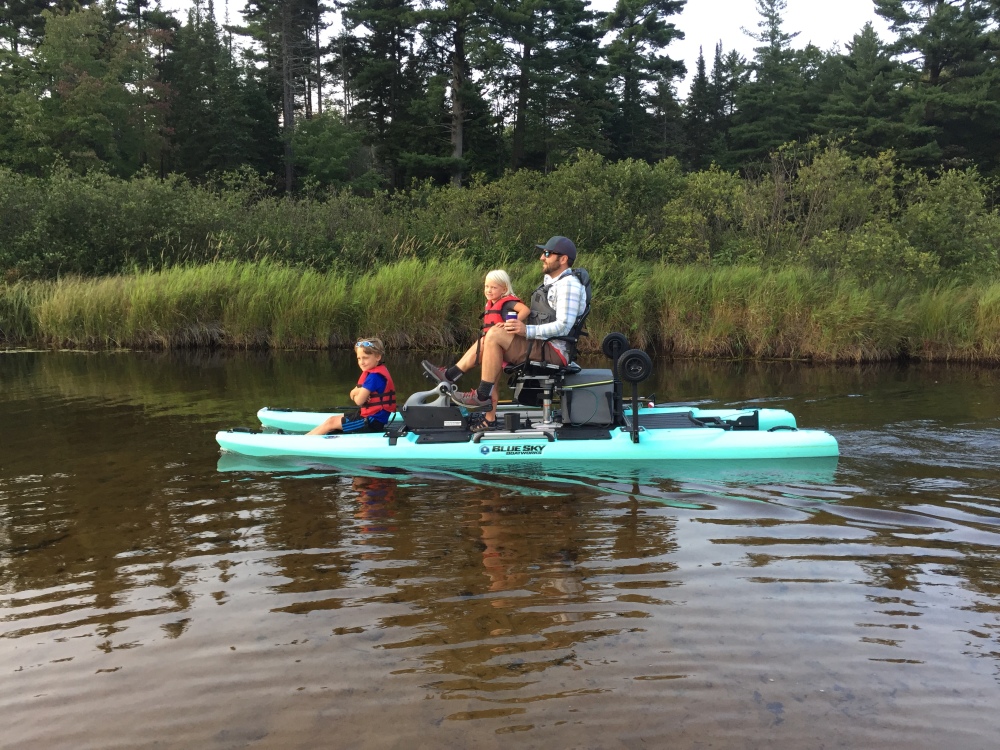 With a 360 degree rotating captains chair, more stability than most sane folks, and one of the best pedal drives on the market, the Blue Sky Boatworks 360 Angler will not disappoint. I loved it, our family loved it, and I'm sure you and yours will too! The 360 Angler earns one BIG THUMBS UP from this happy Dad!
***This just in*** Blue Sky Boatworks will be offering a Bimini Top and Sailing Rig option for these models! They are also in the process of building a TriCat too with side by side seating, two FD Drives, or an FD Drive and EMotor. 
Tight lines,
Will